//Website design & branding for a gift searching engine
Role: UX/Visual Designer. Collaborated with the Software Developer.
GiftSearch is a web engine that helps users find the best gifts for their loved ones by inputting a few details about them that would generate a list of hand-picked gifts.
Steps
1 - Gathered business requirements
GiftSearch is a personal project that I worked on with Software Developer Victor Avasiloaei. We wanted to build a tool that would allow people to easily find interesting gifts for their loved ones. We wanted it to be simple to use, useful and fun.
2 - Researched the users
As reddit users who had the idea for the website while reading users' complaining about not finding gifts, we set our target market to 18-45 year-old men and women with a bigger focus on women, 20-35yo, middle class, more on the geeky side and somewhat tech-savvy. I launched a survey and to gauge their interest and see what type of gifts they have bought recently - I received 267 answers and according to their feedback (soooo many pillows and Star Trek merchandise), we set out to build our website.
3 - Ideation - created the wireframes and design
In collaboration with the Software Dev, I created the wireframes and set the user flow of the website and when we agreed on a structure, I designed the pages for mobile and desktop and created illustrations. We also built a system that allowed users to save favorite gifts and to set up notifications to receive an email when their selected gifts prices drop. Additionally, I wrote the entire copy of the website.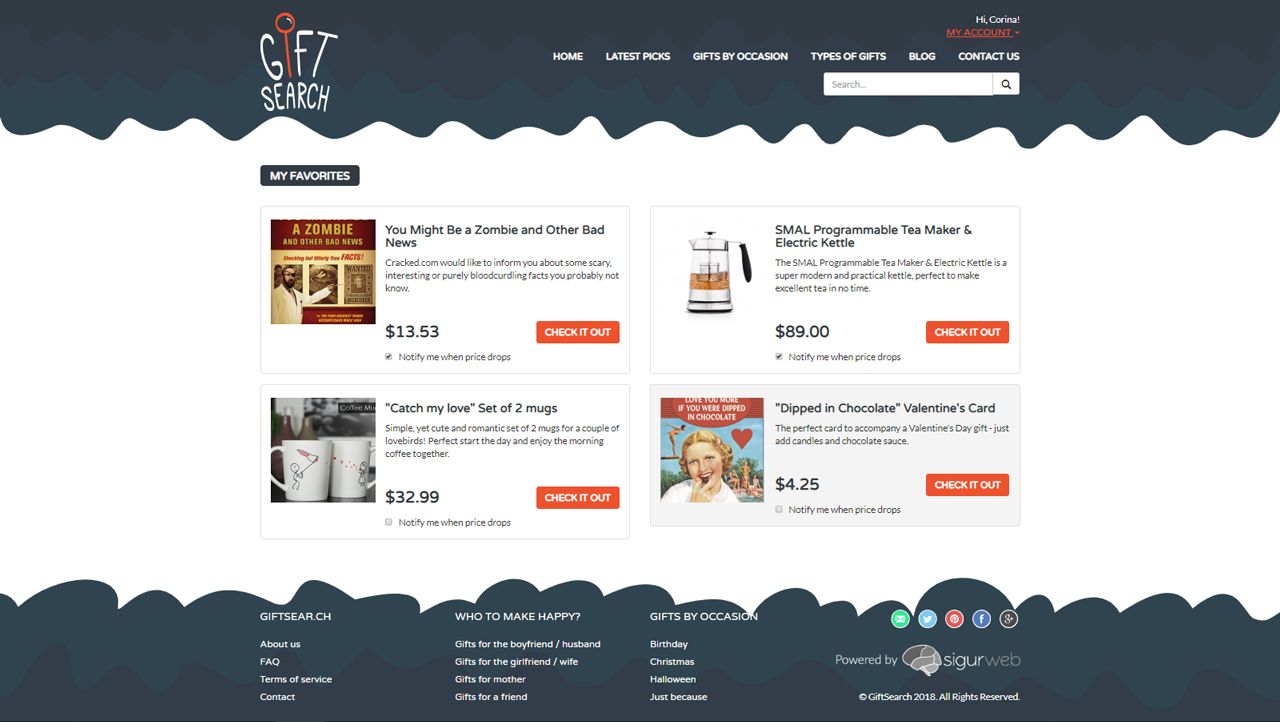 4 - Tested the design with first time users
I made a clickable desktop prototype of the website with a few sample gifts and recruited 8 people from the target market to test it out remotely. I prepared tasks for them to complete and asked them to walk me through their thought process as they completed them. I spotted some hiccups with the content hierarchy and the flow, made adjustments and we had our final design!
5 - Prepared the design for development
I prepared all the documentation, assets and interactions for the Software Developer and we collaborated closely during the development to make sure everything looks and works exactly as we want it.
6 - Results
We've monitored the website over time and made improvements based on Hotjar recordings where I spotted where people hesitated or clicked erratically, or simple oversights (such as missing a remove button in favorites, glad I spotted that one fast).  At the time of writing (January 2022) we haven't updated the website in some years and we still get traffic and a few couple hundreds in revenue every year.